Bowling Green HVAC Services & Repairs
Stay warm in the winter and cool in the summer with an HVAC service provider you can trust. Lee Company offers comprehensive heating and cooling services in Bowling Green, KY. Whether you need emergency repairs, preventive maintenance, or a full-blown system replacement, our expert technicians are available 24/7 to handle all of your HVAC service needs.
You can reach us any time at 270.677.1804.
HVAC Financing
Need a new HVAC system? Convenient payments to give you budget flexibility and the right heating and air conditioning solution for your home.
Maintenance & Repairs
Check our current promotions. We repair, maintain, sell, and install heating and air conditioning brands that you want, at a price you'll prefer.
HVAC Financing
Need a new HVAC system? Convenient payments to give you budget flexibility and the right heating and air conditioning solution for your home.
Maintenance & Repairs
Check our current promotions. We repair, maintain, sell, and install heating and air conditioning brands that you want, at a price you'll prefer.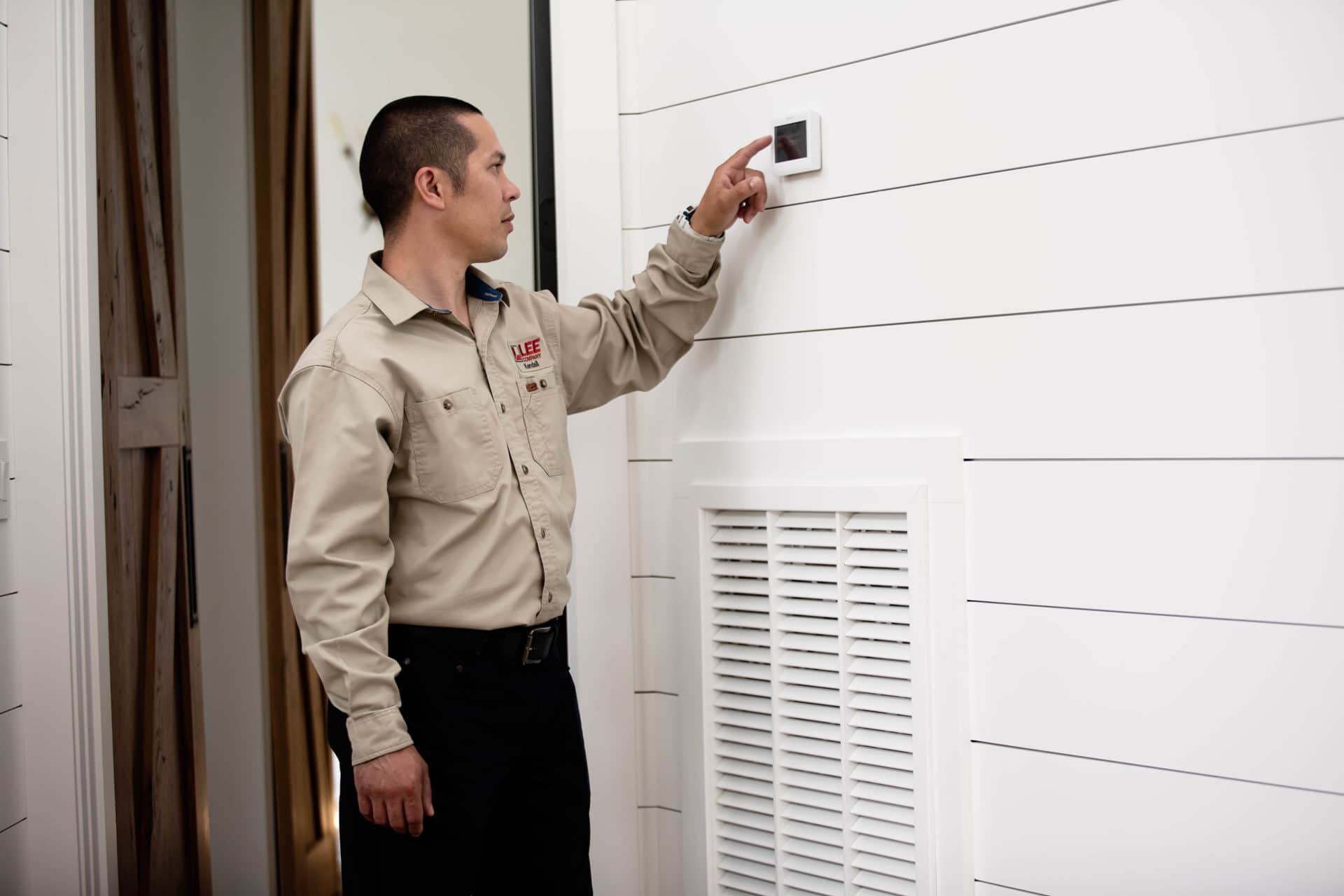 Lee Company Offers the Best HVAC Services in Bowling Green
Is it affordable? Absolutely! With great pricing on the best heating and air conditioning brands, financing, and flexible payment options, we can help you find the best HVAC solution for your home and your budget.
With Lee Company, trust is part of the package. You might want to buy a heater or have your air conditioner repaired. No worries. Lee Company has served homeowners since 1944. Your neighbors trust our experts. You can too.
Technical Spotlight
Two-Stage Cooling
A two-stage air conditioner can provide energy savings and comfort. Single-stage systems only run at high speed, regardless of the weather. Depending on the weather, a two-stage system automatically switches between high and low speeds. Most days, it runs on low. When it's scorching hot, the system ramps up!
The two-stage approach is an energy-efficient way to keep your home comfortable. The continual low-speed operation also helps ensure that your home is effectively dehumidified and improves indoor air quality.
Bowling Green Heating and Air Conditioning Services
Season Tune-Ups & Inspections

Plan ahead and stay ahead. Avoid HVAC issues with routine tune-ups and inspections. It's a great way to keep your HVAC system running safe and efficient. We are the Bowling Green HVAC pros, providing great service season after season.
Duct Cleaning

When was the last time you had your air ducts cleaned? If you can't remember, it's probably time. Clean air ducts mean that clean air is circulating through your home. It's better for your health and can help with seasonal allergies. Lee Company offers expert air duct cleaning services.
Duct Installation Retrofit

Is your duct system outdated? We can update your older duct system with new insulation. Upgraded insulation means that you'll save money on your energy bills! Our duct installation retrofit service pays for itself.
Dual-Fuel Systems

Dual-fuel HVAC systems are powered by electricity and natural gas. This fuel-efficient system runs smoothly and maximizes fuel efficiency—the best of both worlds.
Electronic Air Cleaners

Clean air means a cleaner house. An electronic air cleaner will make a noticeable difference in the amount of dust and other particles circulating throughout your home. Lee Company's air cleaners capture up to 95 percent of floating particles.
Energy Recovery Ventilation (ERV)

Do you love fresh air? Good news: now you can bring outside air safely into your home! With a Lee Company Energy Recovery Ventilation (ERV) system, you can enjoy the outside air without the humidity, pollen, and other pollutants.
Geothermal Systems

Geothermal systems allow you to make good use of natural resources. Improve efficiency with a ground-source heat pump.
Heating & Air Conditioning System Analysis

Is there a better way to heat and cool your home? Find out for yourself! Our HVAC technicians can run a comparison between your current HVAC system and new equipment. We can provide a data-based reason for replacing or repairing the HVAC system in your home.
Programmable Thermostats

Programmable thermostats keep your home at the ideal temperature while keeping your utility bills low. Maintaining a consistent temperature is more energy-efficient, which saves money on utility bills. Win-win!
Whole-Home Humidification

The humidity in a Southern summer can be stifling, but winters can be dry. A lack of moisture can be hard on your health, home, and possessions. A whole-home humidifier will help you maintain the perfect level of humidity.
Planned Unit Replacements

Be nice to your future self by planning ahead. Smart planning leads to energy savings and peace of mind. This will help you avoid expensive, unexpected HVAC replacements down the road.
Solar Air Conditioning Systems

Make that Kentucky sunshine work for you! Boost your HVAC system and energy savings with solar power.
Solar Attic Ventilation Fans

Do you know how hot it gets in your attic during the summer? Excessive heat levels in your attic can make your HVAC system far less efficient. Regulate the temperature in your attic by up to 20 degrees and experience the difference! Solar attic ventilation fans are completely silent and come with a 25-year warranty!
Ultraviolet Air Purification/Air Scrubbers

We know you worry about your health and the health of your family. Ultraviolet air purifiers work wonders by removing 99.9 percent of odors, bacteria, and viruses. 
High SEER Units & Payback Analysis

Why spend more money than you have to? Installing a more efficient HVAC unit can pay for itself in just three-to-five years. SEER stands for Seasonal Energy Efficiency Ratio. Are you spending too much on HVAC—or too little? SEER (Seasonal Energy Efficiency Ratio) gives you a cost/benefit analysis of an efficient HVAC system. Installing a more efficient HVAC unit can pay for itself in just three-to-five years.
Financing Options

To give you the best available options, we offer HVAC financing with approved credit.
Crawl Space Encapsulation

An untreated crawl space can be a breeding ground for microbial growth and an open door to pests and flooding. Fortunately, we offer crawl space encapsulation services.
Bowling Green Heating & Cooling Maintenance, Repair, and Installation
Lee Company's HVAC technicians show up on time, ready to work. We install and maintain heaters, air cleaners, and humidifiers. Need air conditioning service? We offer 24/7 emergency repair services. Want to cut utility bills? We have a thermostat for that.
One call is all it takes if you need air conditioning repair work. If you've ever had an air conditioner go out in August in Southern Kentucky, you know that's good news!
Emergency HVAC Repair
We're here for you when you need us most. Lee Company offers 24/7 emergency HVAC repair in Nashville and surrounding areas.
HVAC Installation
Our expert technicians will help you bring your HVAC system up to date and help you pick the unit that best suits your needs.
Air Quality Services
You deserve clean air in your home. Whether you need a whole-home humidifier, dehumidifier, or an air purification system, we've got you covered.
Your Neighbors
Love

Lee Company
Greg was fantastic. Very professional! He explained (in understandable terms) his findings and prepared me well for the probability of the need for some repair work in the near future. I have signed up for the plan and look forward to future visits for plumbing and electrical inspections.
Cameron was extremely efficient in checking all areas to determine the source of our plumbing problems. The photos that he took of our pipes helped to explain our current problems and the potential for future problems. He did an impressive job.
David and Noah did an HVAC inspection for us at a home we are purchasing. They were very courteous and professional. I appreciate the time they spent explaining the repairs needed to bring the HVAC units up to an optimal level.
You guys saved me and my dogs from temps in our house that were starting to get dangerous! A new central heat and air unit installed and completed by midday the next day? In June? Unbelievable! I'm so pleased, and all your techs were so nice! My dogs think so too! Great work, thanks so much!
Matt, Nick, and Kevin were so professional, knowledgeable, and communicated what was happening throughout the installation. They were careful to ensure walkways were covered and no mess was made. They did an awesome and expedient job with a very time-consuming installation. I will happily recommend Lee Company for any HVAC need!
Our technician was very courteous, knowledgeable, and professional. In addition to our tune-up, he recommended and installed a surge protector on the new unit. We have used Lee Company for several years and are very satisfied with the techs and service.
Keith is an awesome HVAC tech. I have been so incredibly happy with his service. He has restored my faith in companies. He was my first encounter with Lee Company and the reason that I chose to stay. I am very happy with his professionalism, his concern for my best interest, and his willingness to take the time to do the very best job possible. I'm very happy with both Keith and Lee Company.
Edgar was outstanding. Extremely nice, explained things fully, and was a complete professional. Would gladly have him come back out to work on our HVAC again. Thanks, Edgar!
Our Locations and Service Areas
Our friendly HVAC service technicians are available 24/7 for your home repair needs.
Lee Company Bowling Green Office Location
5237 Nashville Rd Ste 6
Bowling Green, KY 42101
Our Bowling Green Office Serves the Following Surrounding Communities
Allen Springs
Alvaton
Blue Level
Browning
Drake
Franklin
Gold City
Oakland
Petros
Plum Springs
Rockfield
Russellville
Salmons
South Union
Woodburn
You deserve the best HVAC services in Bowling Green!
CALL US NOW
Help! My Air Conditioner Isn't Working
It's necessary to schedule routine HVAC maintenance to keep your AC unit running smoothly.
Read More >
What to Do When Your Home Feels Humid
Summer and fall in the south bring hot weather, pop-up storms, and humid air
Read More >
The Benefits of an Annual HVAC Inspection
HVAC inspection and tune-up includes a comprehensive examination of every part of your system.
Read More >